The heavy machine base is manufactured from a reinforced welded construction using stress relieved and heat treated high-grade steel with 8mm thickness and vibration compensation.
ANDERSON utilizes ground ball screws and linear guide rails, with one of the highest precision ratings, as standard. The high-frequency spindle is equipped with standard cooling system and is also available with optional water-cooling system.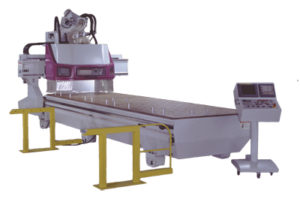 The boring unit is equipped with 9 vertical spindles, 1 spindle unit for horizontal drilling and a grooving saw. The automatic tooling change system contains 8 positions and is available for SK and HSK tool holders.