WESSEL-Drilling and Routing machines allows drilling of extremely small drill diameters as well as drilling of pocket holes with exact depth related to the board surface.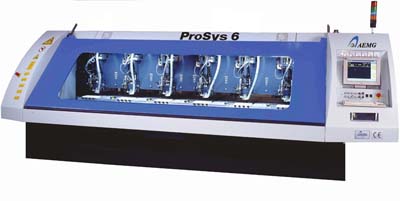 Tooling plate with pneumatic transversal clamping and edge clamping ( additional pneumatic side clamping ). Continuous broken bit detector can be applied from a range of 0.1 mm up to 6.0 mm. The tool is continuously checked concerning drill breakage by means of optical laser sensor.
Tool laser measuring length compensation at different clamping lengths of tools, diameter control of free adjustable limit, run-out-control of the spindle during each measuring process.
Multi tool change up to 520 tools / per spindle
Standard equipped with 4 x 65 fast interchangeable cassettes
Special equipped with 4 x 130 fast interchangeable cassettes
Linear Motors
Hard positioning
Reduced mechanical play
Improved Circular routing
Improved directional path changes
Elimination of mechanical wear created in lead screw
Fast, powerful, maintenance free linear motor drive
Shorter drilling cycle time